| | |
| --- | --- |
| Date: | August 8, 2003 |
| Today's Route: | |
| Today's Mileage: | |
| Total Mileage: | |
A call came in from a yacht broker with a delivery of a 43' Hatteras
from Ft Myers, Florida to Stuart, Florida. However, the owner wants another boat delivered first.
"Yes! I'm interested in the job." The broker said he would have the owner call me.
August 9, 2003: Ed, the owner called. He bought a 50' Chris Craft and needs it delivered from Chicago to Ft Myers. Here is a link for the sales brochure: www.naimoli.com/1/listing.htm. The final sale price was $305,000.00.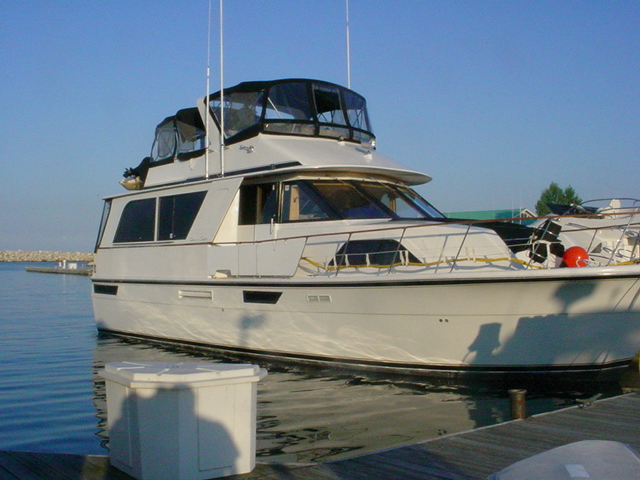 Then he needs his 43' Hatteras delivered from Ft Myers to Stuart. After a few more phone calls, Ed hired me to handle his two deliveries. His airplane pilot would accompany me.
The route from Chicago south, is the western part of a route called the Great Loop or the Great Circle. We will be taking the Calumet River, Illinois River, the Cumberland River, the Mississippi River, the Tennessee River and the Tombigbee River. The route we would take is highlighted in blue with the exception of the areas north and east of Chicago. We also took the red route from Mobile, Alabama, south to Ft Myers, Florida and then across the state though the Okeechobee Waterway to Stuart, Florida. The mileage from Chicago to Mobile, Alabama is 1263 miles.