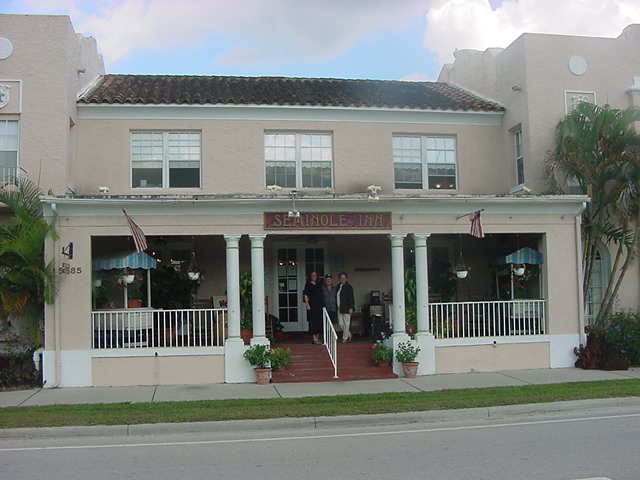 Arrival at the Seminole Inn, Indiantown, FL 10/26/02
"It's only thirty miles northwest of Palm Beach, but in spirit and setting it's light years away, a one-street town in the heart of citrus and cattle country. Settled by the Seminole Indians early in the 19th century, the dry lands of the area they found ideal for hunting and camping are just 14 miles south of the site of the last battle of the Seminole War, the last major Indian engagement east of the Mississippi.
White settlers followed in the 1890's and during World War I, the Corps of Engineers dug the St. Lucie Canal running from Lake Okeechobee through the town to the east coast; but it was not until the arrival of Baltimore banker S. Davies Warfield in the 1920's that Indiantown was put on the map.
Warfield planned to make Indiantown the southern headquarters of his Seaboard Airline Railroad (now known as Seaboard Coastline), then stretching from Central Florida to West Palm Beach. He planned a model city. He laid out streets, built a school, constructed houses, and a railroad station. Of course he also built the Seminole Country Inn, which he envisioned as a focal point for his newly created community.
Wallis Warfield, his niece, who was later to become the Duchess of Windsor, was there for the gala opening of the inn, and later visited the inn several times."
The Seminole Inn opened in 1926.
Click here for the next picture.